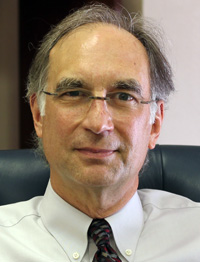 Tom Herr has been handling complicated civil litigation and other legal matters since he obtained his law degree in 1983.
He has represented clients in courts throughout Northern Indiana, including state trial courts and federal district courts and bankruptcy courts in Lafayette, Indianapolis, Fort Wayne, South Bend, and the Hammond/Gary area.
Tom has briefed and argued appeals before the United States Seventh Circuit Court of Appeals in Chicago as well as the Indiana Court of Appeals and the Indiana Supreme Court.
Some of the more interesting matters he has handled include:
A class action lawsuit on behalf of all Tippecanoe County income taxpayers challenging the constitutionality of a special tax for the remediation of a Super Fund site.
A constitutional challenge of the City of West Lafayette's exception of tobacco bars in its anti-smoking ordinance.
An appeal to determine the jurisdiction of a state trial court to rule on federal patent infringement claims.
Multi-million dollar claims for personal injury compensation.
Multi-million dollar marital property divisions.
Multi-million dollar will contest.
Original actions in the Indiana Supreme Court to determine trial court jurisdiction and venue.
Tom has represented a widely diverse group of institutional and individual clients. They have included universities, hospitals, banks, insurance companies, and a number of Fortune 500 corporations. He also has represented numerous medium-sized and small businesses. His clients also have included judges, lawyers, physicians, business executives, university professors, farmers and others with many different backgrounds.
While he most enjoys taking on complicated litigation and trial work, Tom also enjoys the stimulation that comes from handling a variety of legal work. In addition to commercial, personal injury and tort litigation, he continues to selectively accept new clients and to provide legal services related to wills and estates, divorce and family law, real estate, contracts, and general business. He is grateful for the opportunities the legal profession has provided for an interesting and rewarding career. He also is grateful to the numerous other attorneys who continue to refer clients to him with challenging legal needs.
Tom was born in Gary, Indiana in 1955. He graduated from Indiana University (Bloomington) in 1978 with a Bachelor of Arts in Political Science and a Doctorate of Jurisprudence, cum laude, in 1983. While in law school, he received the prestigious Forest E. Jump Scholarship. He has been admitted to practice law in the State of Indiana and also before the United States Supreme Court, the United States Court of Appeals (Seventh Circuit), the United States Claims Court, and the United States District Court for the Northern District of Indiana.
Call Tom at 765-420-0230.